Brief History of Oakland Lodge
By Christina Yu
The Chinese American Citizens Alliance (C.A.C.A.) Oakland Lodge was chartered in 1912. Formerly named the Native Sons of the Golden State, C.A.C.A. originated in San Francisco where members met annually. After the destruction of the 1906 earthquake, some of the members moved across the Bay to Oakland where there was a growing population of Chinese Americans. Eventually connecting with each other and newly interested young Chinese Americans, C.A.C.A. Oakland Lodge was established by 22 charter members: Wong Dun, Chew S. Foon, Lee Hong, Sum Hong, Chin Jing, Chew Keung, Dr. Chas. G. Lee, Frank Lee, Jan Quai Lung, Tom Lung, Jow Pong, Eng Yum Sheun, Frank SooHoo, Chun Sun, Wong Toy, Yip Bing Wah, William Y. Wong, Frank H. Yick, and 4 unrecorded.
In 1919, 6 members, which included Willie Y. Wong, Chew Keung, Dr. Charles Goodall Lee, Wong W. Kai, Jow Pong, and Chancey Chan, pursued an opportunity to purchase a building that would serve as headquarters and voluntarily put down a deposit for the building. The purchase was completed in May 1920; however, moving into the lodge was delayed due to previous tenants with ties to the Tongs who refused to move out unless paid "remodeling money." Oakland Lodge President Wah Chiu Lee was instrumental in resolving this eight-month dispute, and the building officially opened in August 1921. Those who contributed financially to the purchase of the building were eventually repaid. It is documented that the biggest financial contributor was Dr. Lee who was repaid in full after 25 years and awarded a gold watch for his generosity. Since the purchase of the property, the Oakland Lodge occupied the top stories of the building and mostly rented the ground level to local merchants. For many years, it was rented to Fong Get Moo, the first Chinese female barber in Oakland who charged customers a dime for a haircut and lollipop. In the more recent years, the ground level has been rented to various restaurant owners.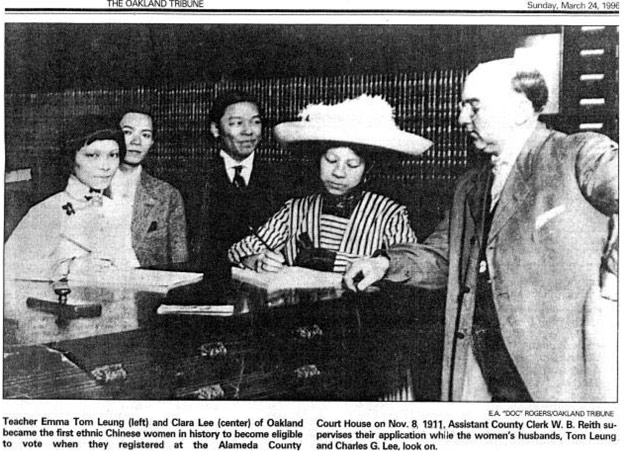 Against the backdrop of discrimination and prejudice of Chinese Americans, C.A.C.A. was originally established for the purpose of fighting for civil rights, equal economical and political opportunities, and the general welfare of Chinese Americans. Consistent with its original mission, Oakland Lodge members embodied the same spirit to carry out C.A.C.A.'s purpose towards the betterment of its community through advocacy and service, contributing to the legacy of Chinese in America. As a matter of fact, Dr. Lee was the first Chinese American dentist licensed in the United States and dentist to practice in Oakland Chinatown. His wife, Clara Elizabeth Chan Lee, was the first woman registered to vote in the state of California in 1911. Mrs. Lee and another member's wife, Emma Tom Leung, were the first Chinese American women registered to vote in the United States. Because C.A.C.A. was strictly a brotherhood at that time, Mrs. Lee and Mrs. Leung were not members.
Continuing its mission to strengthen political involvement amongst Chinese Americans, Oakland Lodge members created educational opportunities to register and encourage voters at Chinatown's social events (e.g., street festivals, fairs, organization meetings) to increase representation in polls and supported efforts to elect Chinese Americans into government. Examples of those efforts include elections of Jean Quan and Wilma Chan as the first Chinese Americans to be on the Oakland Board of Education, and eventually Jean Quan as the first Chinese American and female mayor of Oakland. Jean Quan and her husband, Dr. Floyd Huen, are also currently C.A.C.A. members. Dr. Huen was coincidentally a C.A.C.A. scholarship recipient in the past and utilized his scholarship to earn his degree and ultimately cofounded the Asian American Studies program at the University of California, Berkeley.
From advocating for equal educational rights to creating scholarship programs, Oakland Lodge has always supported education, leadership, and service amongst the youth and continues to hold annual essay contests; provide merit scholarships for high school senior students pursuing collegiate education, demonstrating strong academics, involved in community service and/or leadership roles, and have financial need; and sponsor high school to college- age students to attend Asian Students In Action program to foster leadership and networking skills. Oakland Lodge's involvement to ensure equal education dates back to 1926 during the segregation of Chinese students at Swett Junior High School. Under the presidency of Quong Hing Lim, Oakland Lodge led formal protests and gained the support of Oakland Board of Education in order to integrate Chinese students.
Oakland Lodge has also played a role in developing social programs in the Oakland Chinese community. Founded at a time of strong discrimination against Chinese Americans, who were discouraged from sports participation, Oakland Lodge sponsored sporting events in Chinatown and even sent teams to compete in China. Some of those trophies continue to be displayed at the Lincoln Community Center in Chinatown to this day. In 2004, Oakland Lodge President Edward Yu, wanting to promote social ties and overall health, established line dancing and tai chi classes at the Lincoln Community Center, which continue to have strong participation, remain free of charge to the public, and are taught by C.A.C.A. members.
Improving and strengthening community, Oakland Lodge has been in involved in local services and projects. Oakland Lodge played a crucial role in advocating for the installment of the first traffic lights in Chinatown beginning 1932. With persistence, a traffic light was approved for the 8th Street and Harrison Street intersection in 1937, and 8th Street and Webster Street intersection in 1942. In the following years, other projects include the Chinese Garden and Pagoda Project, Lincoln Park Restoration Project, volunteering at Kee Ying Senior Center, contributing to the documentary film "Carved in Silence" about Angel Island, helping the Clean-Up Chinatown program, providing meals to police officers for Oakland Police Department Appreciation Day, providing historical information to the 10,000 Steps Project, organizing and volunteering at Mayor Quan's town hall meeting in Chinatown, and hosting annual Independence Day senior luncheon to promote patriotism and honor Chinese American veterans. Oakland Lodge historically had relations with the Veterans of Foreign Wars Chinatown Post, where membership overlapped and included those who fought in WWII, Korean War, and Vietnam War. Some were also Flying Tigers, the First American Volunteer Group of the Chinese Air Force comprised of pilots from the United States military, who played a major role in defending China from Japanese Forces during WWII. The veterans' stories often describe the experience of pride for their country while facing discrimination from fellow Americans. Deceased veterans include Bill Law, Bill Louie, Phillip Ong, Edmund Wong, and Kenneth Wong. Veterans who remain active in Oakland Lodge include Raymond Chan, Norman Cheng, Richard Fong, Franklin Gee, Elwin Jang, Luther Lee, Norman Lew, James Mark, Wayne Mark, Harry Soo Hoo, Gary Tam, John Tsoi, Douglas Wong, and Edward Yu.
C.A.C.A. Oakland Lodge has provided over 100 years of service to the Chinese community in the East Bay Area. Its members continue to honor the mission that was established by predecessors who pursued the dream of an equal and better America for the Chinese community.
Oakland Lodge Through the Years : A Pictorial Survey